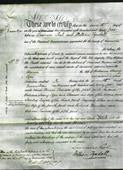 Deed by Married Women - Eleanor Pope
Certificate of acknowledgement of deed by married women - Eleanor Pope wife of William Henry Pope.
Witnessed by Lawrence Peel and William Tyndall.  
Made between Eleanor Pearson, Stanley Taylor, Edward Allen, Harriet Allen, Richard Krushaw and William Pearson.
County of Lancaster. Date 7-11-1865.