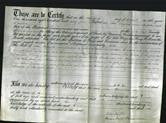 Deed by Married Women - Jane Harrison
Certificate of acknowledgement of deed by married women - Jane Harrison wife of John Harrison.
Witnessed by John Clayton and Ralfele Park Philipson.
Made between John Neilson, Benjamin Tweedy, Elizabeth Vivien, Dorothy Lefirusfie, Jane Holmes, Benjamin Imaile, Robert Longaird the elder, Robert Longaird the younger, Elizabeth Imale and Henry James Modlin.
County of Newcastle Upon Tyne. Date 13-8-1864