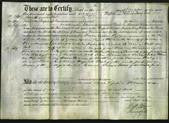 Deed by Married Women - Susan Sophia Palmer
Certificate of acknowledgement of deed by married women - Susan Sophia Palmer wife of John Palmer.
Witnessed by Richard Henry Witty and Henry Dyle.  
Made between Susanna Tancock, John Pilsey Mann, Mary Anna Mann, Susanna Pidsley, Richard Hayward Pidsley, George Hayne and Richard Robinson Rodd.
County of Middlesex. Date 5-1-1865.